There's something magical about a sunset. The warm, golden glow of the sky, the calming sound of the ocean, and the peacefulness of the moment are all things that we cherish and enjoy. The beauty of nature is something that has been captured in art for centuries, and in the modern era, we can appreciate it in a new way through the medium of puzzles. Sunset jigsaw puzzles are a popular pastime for people of all ages, and for good reason – they allow us to take a moment to slow down, relax, and appreciate the beauty of nature.
Sunset jigsaw puzzles typically feature an image of a beautiful sunset scene, often with the ocean or beach in the foreground. The warm colours of the sunset sky are contrasted with the cool blues and greens of the ocean, creating a stunning visual effect that captures the imagination. The puzzle pieces themselves are usually made from sturdy cardboard or wood, and come in a variety of sizes and shapes. Some puzzles have smaller pieces that are more challenging to assemble, while others have larger pieces that are easier to handle.
One of the best things about sunset jigsaw puzzles is that they provide a sense of accomplishment and satisfaction when completed. The process of putting together a puzzle requires concentration, patience, and attention to detail, all of which can be therapeutic and stress-relieving. As each piece is put into place, the image slowly comes into focus, and the satisfaction of seeing progress being made can be incredibly rewarding.
In addition to the mental benefits of puzzle-solving, sunset jigsaw puzzles also offer a sense of connection to nature. The images depicted on the puzzles are often scenes that we would love to experience in real life, but that may be out of reach for many of us. Assembling the puzzle allows us to immerse ourselves in the scene and feel as though we are a part of it, even if only for a short time.
Sunset jigsaw puzzles can also be a great way to spend quality time with family and friends. Working on a puzzle together can be a bonding experience, and the sense of teamwork that comes from solving a puzzle can be incredibly rewarding. It's a great way to spend a quiet evening at home, or to pass the time during a rainy day.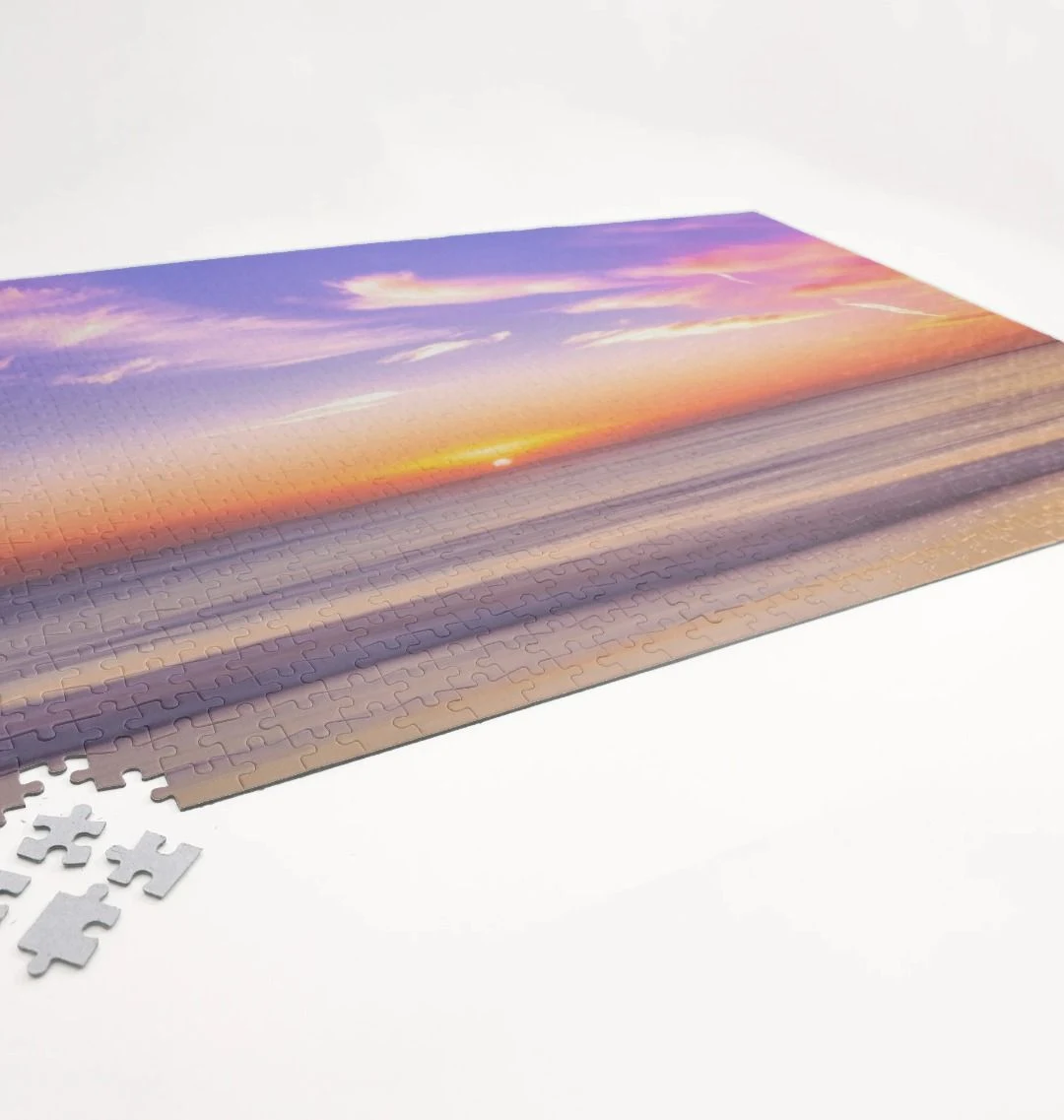 Of course, not all sunset jigsaw puzzles are created equal. Some are more challenging than others, and some are more visually striking. It's important to choose a puzzle that is the right level of difficulty for you, so that you don't get frustrated and lose interest. It's also a good idea to choose a puzzle that has an image that you find visually appealing, so that you are motivated to complete it.
When choosing a sunset jigsaw puzzle, there are a few things to keep in mind. First, consider the size of the puzzle. A larger puzzle will take longer to complete, but will offer a greater sense of satisfaction when finished. A smaller puzzle may be more manageable for younger children or for people who are new to puzzle-solving. Second, consider the level of difficulty. Some puzzles have fewer pieces or larger pieces, making them easier to assemble. Other puzzles may have more pieces or smaller pieces, making them more challenging. Finally, consider the image itself. Choose a puzzle with an image that you find visually appealing, and that captures the essence of what you love about sunsets.
In conclusion, sunset jigsaw puzzles are a wonderful way to appreciate the beauty of nature and to take a moment to slow down and relax. They offer a sense of accomplishment and satisfaction when completed, and can be a great way to spend quality time with family and friends. Whether you're an experienced puzzle-solver or new to the hobby, there's a sunset jigsaw puzzle out there that's perfect for you